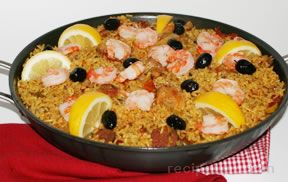 Directions
Heat oil in large oven-proof pan. Salt and pepper chicken pieces, skin off or on, as preferred. Brown chicken well on all sides and set aside.
Add onion, bell pepper and sausage to pan (use more oil, if needed) and cook until onion softens, about 5 minutes. Add garlic and tomatoes and stir to get up any browned bits from the pan. Add stock, 1 teaspoon salt, 1/2 teaspoon pepper, and the turmeric.
Stir in rice and return browned chicken to pan. Cover and bake in 350° F. degree oven (or simmer on stovetop) until rice and chicken are tender and most of the liquid is absorbed, about 30-40 minutes. Add water or tomato juice, if mixture looks dry before rice is done.
Prepare the shrimp: peel and devein, if necessary, and sauté until cooked (until color changes to bright orange) about 5 minutes.
Arrange shrimp, olives, and lemon slices on top of rice. Serve hot.
Container: large pan with lid
Servings: 6


Ingredients
-
6 chicken thighs, or 3 lb chicken, cut up
-
3 tablespoons olive oil
-
1 large onion, chopped
-
1 bell pepper, chopped
-
1/2 pound garlic-y sausage, sliced
-
6 cloves garlic, or to taste, sliced
-
2 cups tomatoes, chopped, with juice (fresh or canned)
-
4 cups chicken stock
-
1 teaspoon turmeric
-
salt and pepper
-
2 cups rice
-
12 large shrimp
-
12 black olives
-
1 small lemon, cut into wedges