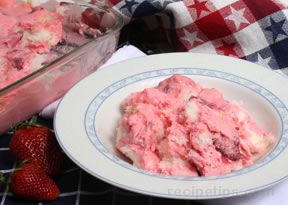 Directions
Prepare angel food cake as directed on the package. Allow to cool.
If using fresh strawberries, clean the berries, remove hulls, and cut into quarters. Sprinkle with 1/4 cup of sugar. Mash slightly and set aside.
Dissolve gelatin in the hot water and then add the ice cream by spoonfuls. Stir until ice cream has melted. Place in refrigerator and chill for 20 minutes.
After the fresh strawberries have sat for at least 15 minutes, mash them again until they are the desired consistency. This should produce approximately 1 1/2 cups of mashed strawberries. Fold strawberries and whipping cream into the ice cream mixture.
Tear cooled angel food cake into pieces and place in the bottom of a 9 x 13 baking dish in a single layer.
Pour a layer of the strawberry mixture over the cake pieces. Continue to alternate layers of cake and mixture.
Place in the refrigerator and chill until set.
Note: Cake and mixture can also be layered in a large glass bowl.
Prep Time: 1 hour
Cook Time: 30 minutes
Container: 9 x 13 baking dish
Servings: 15


Ingredients
-
1 package angel food cake mix
-
1 package strawberry gelatin (3 oz.)
-
1 1/4 cups hot water
-
2 cups strawberry ice cream
-
1 pint fresh strawberries or 10 oz. frozen strawberries
-
1 cup whipping cream