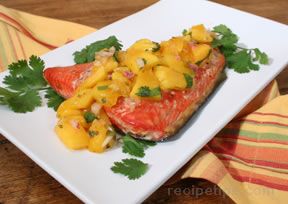 Directions
Prior to grilling, soak grilling plank in water for 2 hours. Plank must be totally submerged. Use a weight such as a rock or cans of food to keep it fully immersed in water.
Prior to cooking, rub a clove of garlic over surface of plank on which fish is to be placed and then brush the same surface with a coating of olive oil.
Wash fish steaks with cold water; brush each side of each steak with a coating of olive oil; sprinkle with t ground pepper and chives.
Preheat grill to 350º F. on medium-high heat setting.
Place the damp plank with the fish on it on the grill near or almost over heat source so plank can be evenly and well heated, but not so much that the wood ignites. Close grill hood.
As a precaution, keep a spray bottle of water near the grill to extinguish any flames from board burning. Check periodically to make sure plank is only smoking and not burning.
Grill salmon for 20 to 30 minutes depending on the intensity of the heat. When salmon steaks flake easily into large chunks and when internal temperature reaches 135º F., salmon should be finished cooking.
Use caution when removing planks and fish from grill, since planks may be very hot. Use grill mitts or turn off grill heat, use a spatula to remove salmon steaks, and allow plank to cool before removing.
MANGO SALSA
The ingredient amounts will serve 4 people, so alter amounts, if desired.
In a small bowl, combine chopped mango, red onion, cilantro, and lime zest.
In another small bowl, whisk lime juice and oil, seasoning to taste. Pour juice and oil over the mixture of mango, onion, cilantro, and zest.
Cover and let stand in refrigerator for at least one hour before serving.
Prep Time: 45 minutes
Cook Time: 25 minutes
Container: Grilling plank
Servings: 2
Serving Size: pound


Ingredients
-
cedar grilling plank
-
1 1/2 pounds salmon filet, Copper River or any fresh
-
garlic clove, peeled
-
1 tablespoon olive oil, extra virgin
-
1/2 teaspoon pepper, fresh ground
-
1/4 cup chives, fresh chopped
-
MANGO SALSA
-
1 mango, peeled and chopped
-
2 tablespoons red onion, diced fine
-
2 tablespoons fresh cilantro, coarsely chopped
-
1 lime, zest from 1 lime
-
2 tablespoons fresh lime juice
-
canola oil
-
kosher salt, season to taste
-
fresh ground black pepper, to taste