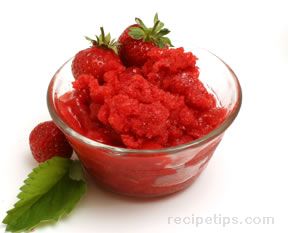 Directions
Put all ingredients into food processor and purée.
Pour purée into a shallow freezable container (to get as much surface area as possible), cover, and freeze until firm. Time will depend on thickness of purée layer and freezer temperature (from 2-4 hours). Leave in the freezer until ready to serve.
When ready to serve, remove purée and let stand at room temperature a few minutes, until it can be easily cut or broken into large chunks.
Put about 1/3 of the frozen purée at a time into food processor. Using short pulses, process until purée is in very small bits, but not slushy. Serve immediately.
Cook Time: 5 minutes
Container: food processor
Servings: 4


Ingredients
-
2 cups sliced strawberries
-
1/3 cup sugar
-
1/3 cup water
-
1 pinch salt
-
1 tablespoon lemon juice
-
1 or 2 drops almond extract (optional)