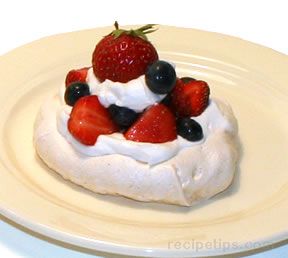 Directions
To make the meringues (this can be done a day or two ahead, as long as they are stored in a tightly closed container--don't freeze or refrigerate): making sure there is no trace or fat on bowls or beaters, beat (medium speed) egg whites, salt, and cream of tartar until frothy. Increase speed and dribble in sugar a little at a time. Beat until whites are very firm. Stir in vanilla, if using.
Rinse fruit and drain. Slice strawberries, reserving 12 whole berries.
Turn oven on to 250° F. Line 2 baking sheets with parchment paper and drop 12 evenly sized mounds of eggwhite on the sheets. Use the back of a large spoon to shape 3 inch circles with a shallow center depression.
Bake 1 1/2 - 2 hours, until outsides are crisp. Interior may be still somewhat soft. Remove to cooling rack. (If making the meringues more than a few hours before serving, store them in an airtight container as they may attract moisture from the air and get soggy.)
Chill the whipping cream, bowl, and beaters 30 minutes or more, and then whip the cream with sugar and vanilla or other flavoring. Return to refrigerator.
When ready to assemble the meringues (do this right before serving), spread a layer of whipped cream over the center of each meringue. Fill with berries. Top with a dollop of cream, if desired, a whole strawberry and a blueberry or two.
TIP: For best volume from egg whites, have them at room temperature before beating, and make sure there is no contact with fat of any kind, including traces of egg yoke. For maximum volume from whipping cream, have cream and all equipment thoroughly chilled.
Prep Time: 30 minutes
Cook Time: 2 hours
Servings: 6


Ingredients
-
2 egg whites
-
1/2 cup sugar, preferably superfine
-
1 pinch salt
-
1/4 teaspoon cream of tartar
-
1/2 teaspoon vanilla (optional)
-
1 pint strawberries
-
1 pint blueberries
-
1 cup whipping cream
-
3 tablespoons sugar
-
1 teaspoon vanilla, or other flavoring