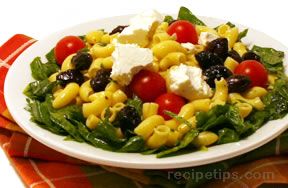 Directions
Cook pasta according to package directions, drain, rinse with cold water, and drain thoroughly.
Mix oil, lemon juice, rosemary, oregano, salt and pepper. Whisk or shake virorously to blend. Pour over pasta. Refrigerate, if serving cold.
When ready to serve, arrange torn spinach on platter or individual serving plates. Add pasta, top with olives, tomatoes, and feta.
Serve warm or cold.
Prep Time: 20 minutes
Cook Time: 10 minutes
Container: saucepan, 3 quart or larger
Servings: 2


Ingredients
-
4 ounces any short pasta
-
1/3 cup olive oil
-
2 tablespoons fresh lemon juice
-
1 tablespoon chopped fresh rosemary, or 1 teaspoon dried
-
1 tablespoon chopped fresh oregano, or 1 teaspoon dried
-
1/2 teaspoon salt
-
freshly ground black pepper, to taste
-
1/2 cup cubed feta cheese
-
1/2 cup cherry tomatoes
-
12 olives, preferably Kalamata or other flavorful Greek olives
-
2 cups spinach or other salad greens