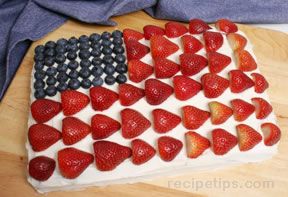 Directions
Mix cake mix with water, oil, and eggs according to package directions. Pour batter into a 9" x 13" baking pan.
Bake in a 350° F. oven for approximately 30 minutes or until the cake pulls away from the edges and a toothpick inserted into the center comes out clean.
Cool on a wire rack for five minutes. Remove cake from pan and allow to cool completely.
For frosting: mix powdered sugar, water, corn syrup, vanilla, and butter together until thick and creamy. When cake is cool, frost the entire cake with the frosting.
Slice strawberries in half length wise and allow them to drain on a paper towels while you arrange the blueberries. Lay the fruit out on the cake into a flag pattern as shown.
Prep Time: 30 minutes
Cook Time: 30 minutes
Container: 9 x 12 baking pan
Servings: 15


Ingredients
-
1 box yellow cake mix
-
1 cup water
-
1 cup oil
-
3 eggs
-
2 1/2 cups powdered sugar
-
2 tablespoons water
-
1 teaspoon light corn syrup
-
1 tablespoon soft butter
-
1/2 teaspoon vanilla extract
-
1 pint fresh strawberries, washed and dried
-
1/2 cup fresh blueberries, washed and dried