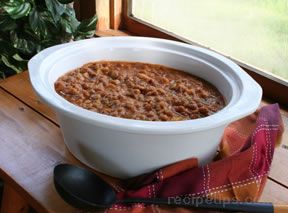 Directions
In a large skillet, cook bacon until it is lightly browned. Add onion and celery and continue cooking until vegetables are soft.
Pour drained beans into slow cooker. Add bacon mixture and combine.
In a small bowl, combine liquid smoke, mustard, molasses, ketchup, brown sugar, and vinegar. Stir. Add mixture to slow cooker and stir until well combined.
Turn slow cooker on high for 4 hours or on low for 7 hours.
This dish can be baked the day before. Store in refrigerator and reheat before serving.
Prep Time: 20 minutes
Cook Time: 6 or more hours
Container: 6 quart slow cooker
Servings: 20


Ingredients
-
6 cans 15 oz. pork and beans, drain off some of the juices
-
2 cans 15 oz. butter beans, drained
-
2 cans 15 oz. lima beans, drained
-
2 cans 15 oz. kidney beans (red or white)
-
1 pound bacon
-
1 large sweet onion, chopped
-
4 stalks celery, chopped
-
3/4 teaspoon liquid smoke (optional)
-
2 tablespoons prepared mustard
-
1/2 cup molasses
-
3/4 cup ketchup
-
1/4 cup cider vinegar
-
1/2 cup brown sugar