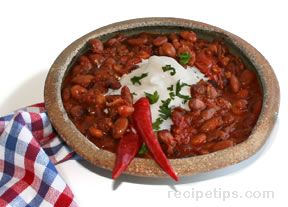 Directions
Sort and rinse beans. Add 2 quarts water (if possible, do not use very hard water-- this could prevent beans from softening) and let stand overnight, or use quick-soak method: boil beans in 2 quarts water for 2 minutes, cover, and let stand 1 hour.
Return beans and soaking water to medium heat.
In a saucepan or skillet, heat oil. Add chopped onion and cook, stirring occasionally, for 5 minutes. Add garlic and cook another minute or two. Add to beans.
Add chipotles, chili powder, salt, ketchup, and tomatoes to beans. Adjust heat to maintain a simmer and cook until beans are tender, 1 1/2 - 2 hours. Taste for seasoning. Top, if desired, with any or all of: sour cream, chopped fresh cilantro, grated cheese.
TIP: Allow plenty of time for beans to cook - old beans take longer.
Prep Time: 20 minutes
Cook Time: 2 hours
Servings: 6
Serving Size: 1 cup


Ingredients
-
1 pound dry beans, preferably pinto beans
-
2 tablespoons oil
-
1 large onion, chopped
-
4 cloves garlic, or to taste, minced
-
3 chipotle chiles in adobo, chopped (include some sauce)
-
4 tablespoons chili powder
-
2 teaspoons salt
-
1/2 cup ketchup
-
4 cups chopped fresh tomatoes OR one 28 oz. can
-
1/4 cup chopped fresh cilantro (optional)
-
1/2 cup sour cream (optional)
-
1/2 cup grated cheese (optional)