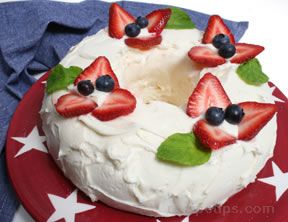 Directions
Bake cake according to package directions or purchase a ready made cake from your local bakery.
In a large bowl, beat cream cheese, sugar, salt, and vanilla until smooth.
In a small bowl, whip the heavy cream until stiff peaks form.
Fold the whipped cream into the cream cheese mixture.
With a spatula, lightly coat the cake with a thin layer of frosting. This layer will act as a glue to keep all of the crumbs together and on the cake.
Place cake in freezer for approximately 15 minutes, or until the first layer of frosting sets.
Generously apply the second layer of frosting. This will be the decorative layer. The crumbs will not show through since they have been set into the first layer.
Wipe with a damp paper towel and remove the stems of four ripe strawberries. Cut the strawberries into thin slices. Approximately four slices per strawberry.
Arrange three to four slices into a flower or star pattern on the top of the frosted cake.
Place two to three washed and dried blueberries into the center of the strawberry stars.
Refrigerate until ready to serve.
The fruit can be arranged in different ways and still achieve a patriotic effect.
Prep Time: 30 minutes
Cook Time: 30 minutes
Servings: 10


Ingredients
-
1 angelfood cake mix or prepared cake
-
2 packages 16 oz. total of softened cream cheese
-
2 cups white sugar
-
1/4 teaspoon salt
-
2 teaspoons vanilla extract
-
3 cups heavy cream
-
4 ripe strawberries
-
12 blueberries