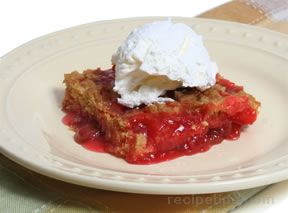 Directions
Cut rhubarb into 3/8 to 1/2 inch pieces and place in the bottom of a 9" x 13" pan. Sprinkle marshmallows over the rhubarb. Pour sugar evenly over the rhubarb and marshmallows. Sprinkle gelatin over the layer of sugar.
Melt butter or margarine in a medium bowl and then add the dry cake mix. Stir until well mixed. Crumble the cake mixture over the rest of the ingredients in the pan.
Drizzle water over the top and then place in a 350° F. preheated oven. Bake for 1 hour.
Allow to cool and then top with whipping cream, if desired.
Prep Time: 30 minutes
Cook Time: 1 hour
Container: 9" x 13" baking dish
Servings: 15
Serving Size: 1 piece


Ingredients
-
4 cups fresh rhubarb, cut in 3/8 to 1/2 inch pieces
-
1 cup marshmallows
-
1 1/4 cups sugar
-
1 3 oz. package of strawberry flavored gelatin
-
1 package yellow cake mix
-
1/2 cup butter or margarine
-
1 cup water
-
whipped topping, optional