Rhubarb Jam - Recipe
A sweet, flavorful jam that makes a great spread or topping on many foods, such as bread, biscuits, crackers, toast, French toast, pancakes, and waffles.

view recipe online: https://www.recipetips.com/recipe-cards/t--2519/rhubarb-jam.asp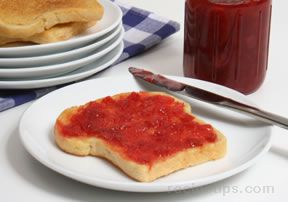 Directions
Clean rhubarb and cut into 1/2 inch pieces.
Place rhubarb in a large bowl and add sugar. Stir until the sugar is distributed evenly. Allow rhubarb to stand for 3 to 5 hours. Stir occasionally. After the rhubarb and sugar have been allowed to stand for the appropriate amount of time, place them in a large saucepan.
Bring rhubarb to a boil over medium to medium high heat. Once the rhubarb comes to a boil, reduce heat to medium and allow to boil for 10 minutes.
Make sure canning jars are clean and ready to fill before jam is done. The lids should be placed in a small sauce pan with enough water to cover and brought to a simmer. Leave lids in hot water until placing on jars.
After the rhubarb has boiled for 10 minutes, remove it from the heat and add strawberry gelatin. Stir until gelatin has dissolved.
Spoon or pour hot jam into pint canning jars. Seal with canning lids and covers. Screw cover on firmly, but do not over tighten. Allow jam to cool completely.
This recipe will produce approximately 3 pints of jam.
Prep Time: 20 minutes
Cook Time: 20 minutes
Container: Half pint or pint canning jars


Ingredients
-
2 pounds fresh rhubarb, approximately 5 to 6 cups
-
3 cups sugar
-
1 3 oz. package of strawberry gelatin