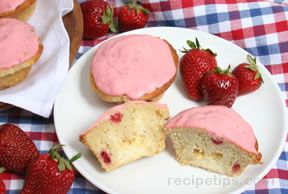 Directions
FILLING:
Preheat oven to 350° F. Grease muffin tin or use paper muffin cups inserted in each cup.
Blend the cream cheese and sugar until smooth. Add the egg and vanilla to the cream cheese mixture and beat only long enough for the ingredients to be evenly combined. Set filling aside.
MUFFINS:
In a large bowl combine flour, sugar, salt, and baking powder. Stir to distribute evenly.
In a medium size bowl, combine vegetable oil, melted butter, milk, strawberries, eggs, and vanilla. Beat to blend ingredients. Add the strawberry mixture to the flour mixture. Stir just until mixtures are combined.
Fill muffin tins 1/3 full of batter. Spoon at least 1 teaspoon of the cream cheese filling into the middle of each muffin. Add 5 white chocolate chips to the center of the muffin and then top with the remaining batter. Muffin cups should be approximately 3/4 full.
Bake muffins at 350° F. for 30 to 35 minutes or until edges are lightly browned. Remove from the oven and allow them to cool before frosting.
FROSTING:
Beat cream cheese until smooth. Add puréed strawberries, powdered sugar, and vanilla. Beat until smooth and well blended.
Frost the cooled muffins and then place in the refrigerator to allow the frosting to set.
Prep Time: 1 hour
Cook Time: 30 minutes
Container: Muffin tin
Servings: 12


Ingredients
-
FILLING:
-
6 ounces cream cheese, softened
-
1/4 cup sugar
-
2 eggs
-
1/4 teaspoon vanilla
-
1/2 cup white chocolate chips
-
MUFFINS:
-
2 cups flour
-
3/4 cup sugar
-
1 teaspoon salt
-
2 teaspoons baking powder
-
1/4 cup vegetable oil
-
1/4 cup butter, melted but not hot
-
1/3 cup milk
-
1/2 cup strawberries, fresh or frozen, diced into 1/4 inch pieces
-
2 eggs
-
1 teaspoon vanilla
-
FROSTING:
-
4 ounces cream cheese, softened
-
1/4 cup strawberries, fresh or frozen, 1/8 cup pureed
-
1/4 cup powdered sugar
-
1/4 teaspoon vanilla