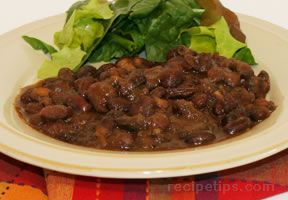 Directions
Sort and rinse the beans. Cover with water by several inches and soak 8 hours or overnight; or use quick-soak method: cover beans with water, boil 2 minutes, cover pan and let stand for 1 hour. ( Or skip soaking altogether, but add 30 - 60 minutes to the cooking time.)
In a large heavy pot, 4 quarts or larger, cook diced bacon until crisp. Add chopped onion and cook until onion softens. Stir in brown sugar, molasses, mustard, salt, and pepper. Add beans, thoroughly drained, and 2 quarts water.
Bring to a boil, then reduce heat and simmer, partly covered (leave lid ajar) until beans are tender, but not mushy, 2-3 hours. Check occasionally to make sure beans aren't getting dry and add more water, if needed. If, near the end of the cooking time (when beans are almost tender), they seem too soupy, leave lid off for the the last 30 minutes or so.
TIP: Allow plenty of cooking time--older beans take longer.
Prep Time: 15 minutes
Cook Time: 3 hours
Container: large heavy pot with lid
Servings: 6
Serving Size: 1 cup


Ingredients
-
1 pound dried beans (navy, Great Northern, etc)
-
1/4 pound bacon, diced
-
1 large onion, chopped
-
1/4 cup molasses
-
1/4 cup brown sugar
-
2 tablespoons mustard, preferably spicey
-
1 teaspoon salt
-
1/2 teaspoon black pepper
-
water