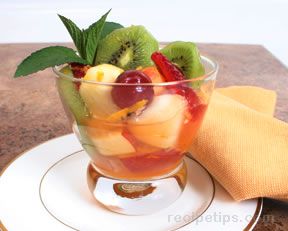 Directions
Combine water, orange peel, sugar and ginger in a small pan.
Bring mixture to a boil. Boil for 45 seconds.
Reduce heat to low, cover and continue cooking 4 to 5 minutes.
Uncover, turn off heat and add orange liqueur, honey and orange juice. Allow to cool.
Place prepared fruit into a 10 cup container. Pour cooled orange juice mixture over prepared fruit.
Cover and refrigerate overnight or a minimum of 2 hours.
Serve chilled or at room temperature. Garnish as desired with a sprig of mint, an edible flower or something similar.
Prep Time: 30 minutes
Cook Time: 10 minutes
Container: sauce pan and 10 cup or larger covered container
Servings: 8


Ingredients
-
1/2 cup water
-
1 tablespoon finely shredded orange peel
-
1 tablespoon sugar
-
1 teaspoon freshly grated ginger
-
1/2 cup orange liqueur
-
1/3 cup juice from 1 medium orange (approximately 1/3 cup)
-
1/4 cup honey
-
6 cups to 8 cups fresh fruit of your choice, cut into large bite sized pieces
-
Fruit suggestions: Melons, kiwis, pears, apples, grapes, mangos, oranges, strawberries.