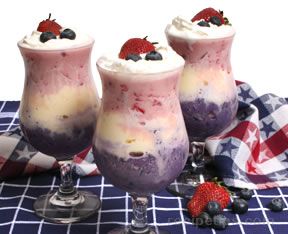 Directions
If using fresh strawberries or blueberries, go through the berries and discard any that are undesirable. Wash gently, if necessary. Place strawberries in a blender or food processor and blend until almost smooth. Leave some chunks of berries in the sauce. Pour the berries in a bowl and set strawberries aside.
Clean the blender and complete the same process with the blueberries, leaving some chunks of blueberries.
Take the yogurt out of the freezer and let it sit for a few minutes so it softens slightly. Put approximately 2 cups of yogurt into each of two bowls. Then put the remaining yogurt, which should be approximately 3 cups, into a third bowl. In one of the bowls with the 2 cups of yogurt add the strawberries. Add the blueberries to the other bowl with yogurt.
Stir the berries into the yogurt in each bowl until they are well blended. Then stir the plain yogurt until it is smooth and about the same consistency as the yogurt containing the berries. This process should be done as quickly as possible so the yogurt does not melt too much.
Once the yogurt has all been stirred, start with the blueberry yogurt and pour a layer into the parfait glasses. Then add a layer of the plain yogurt and then a layer of strawberry yogurt as the third layer.
Top with whipping cream and garnish with strawberries and blueberries. Serve immediately.
If making ahead of time, place in the freezer until ready to serve. Wait to top with whipping cream and garnish until just before serving.
Prep Time: 1 hour
Container: Parfait Glasses
Servings: 4


Ingredients
-
1 3/4 quarts frozen vanilla yogurt, fat-free, no sugar added
-
1 1/2 cups fresh or frozen strawberries, approximately 3/4 cup after processing
-
1 1/2 cups fresh or frozen blueberries, approximately 3/4 cup after processing
-
whipped topping
-
strawberries and blueberries for garnish