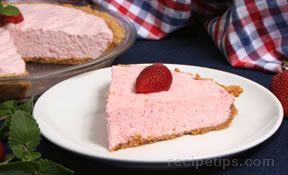 Directions
CRUST:
Crush graham crackers. Add sugar and melted butter. Stir together until well mixed.
Pour into pie plate, spread evenly, and press firmly against bottom and sides.
Bake at 350° F. for 7 minutes. Remove from oven and allow to cool before filling.
FILLING:
Place strawberries in a blender or food processor and blend until smooth.
In a medium saucepan, combine sugar and gelatin. Add the strawberries and frozen lemonade concentrate.
Cook over medium heat until the mixture is bubbling and gelatin has dissolved, stirring continually.
Gradually stir about half of the cooked mixture in with the slightly beaten egg whites. Then pour the beaten egg white mixture back into the saucepan with the other half of the cooked strawberry mixture.
Stir constantly while cooking over low heat until mixture thickens, about 3 minutes. Do not allow to boil.
Pour into a medium bowl, add orange juice and stir.
Put the mixture into the refrigerator and chill until it starts to thicken, so that it is clumpy when stirred but not firm (approximately 2 hours).
When strawberry mixture has thickened, fold in the whipped topping.
When evenly blended, pour into the prepared graham cracker crust. Spread evenly.
Cover and then return to the refrigerator and chill until set (approximately 2 hours).
Garnish with strawberries and mint (optional).
Prep Time: 45 minutes
Cook Time: 15 minutes
Container: 9
Servings: 8
Serving Size: 1 piece


Ingredients
-
CRUST:
-
1 1/2 cups graham cracker crumbs (18 squares)
-
1/4 cup sugar
-
1/3 cup butter, melted
-
FILLING:
-
2 cups fresh or frozen strawberries
-
1/4 cup sugar (use only if strawberries are unsweetened)
-
1 envelope of unflavored gelatin
-
2 tablespoons frozen lemonade concentrate
-
3 egg whites, slightly beaten
-
1 tablespoon orange juice
-
4 ounces whipped topping (1/2 of 8 oz. container)
-
strawberries and mint sprigs for garnish (optional)