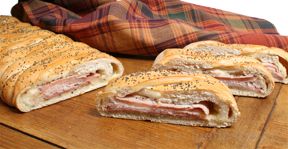 Directions
Roll out thawed bread dough into a rectangle approximately 12 x 18 inches. Spread mayonnaise down the center of the dough leaving approximately 3 inches on each side. Sprinkle with dry onion and Italian seasoning.
Layer with 3 slices of Swiss cheese, 6 slices of ham, 6 slices of smoked turkey. Then add an additional 3 slices of Swiss cheese, 3 slices of ham and 3 slices of smoked turkey.
Slice approximately 3 inch long slits into the dough 1 1/2 inches apart on each side. Cut in to the center where the cheese and meat are layered. Wrap the cut pieces up around the meat and cheese and then criss-cross them one on top of the other. Continue down the length of the sandwich.
Beat the egg whites and water together and brush the top of the loaf with the mixture. Sprinkle with poppy seeds.
Bake in a 375° F. oven for approximately 20-25 minutes or until golden brown.
Better served warm, but may also be served cold.
Prep Time: 15 minutes
Cook Time: 25 minutes


Ingredients
-
1 loaf frozen bread dough, thawed
-
5 ounces ham
-
5 ounces smoked turkey
-
5 ounces swiss cheese
-
1/4 cup mayonnaise
-
1 teaspoon Italian seasoning
-
1 teaspoon dry onion flakes
-
1 tablespoon water
-
1 egg, separated