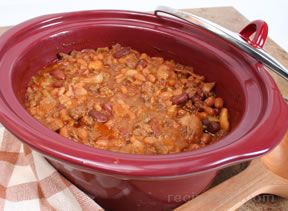 Directions
Coat inside of slow cooker with non stick cooking spray.
Add cut up bacon, hamburger, chopped onion, and celery to a large skillet. Cook hamburger mixture until ground beef is browned and onions are soft. Add remaining ingredients to skillet and stir until well combined.
Pour mixture into slow cooker and cook on high 1 hour. Reduce heat to low and continue cooking 3 to 4 more hours. Turn to warm until ready to serve.

Every slow cooker temperature varies. Check your dish after 3 hours and adjust cooking time accordingly. Refer to instructions provided with the slow cooker, if needed.
Prep Time: 15 minutes
Cook Time: 4 hours
Container: slow cooker
Servings: 10


Ingredients
-
1 pound ground beef
-
1/2 pound bacon or 6 to 8 slices cut into 4 pieces
-
1 onion - large, chopped
-
2 stalks celery - finely chopped
-
30 ounces canned pork and beans, do not drain
-
15 ounces butter beans, drained (or lima beans, drained)
-
15 ounces kidney beans - drained
-
3 tablespoons mustard
-
3 tablespoons brown sugar
-
3 tablespoons molasses
-
3/4 cup ketchup