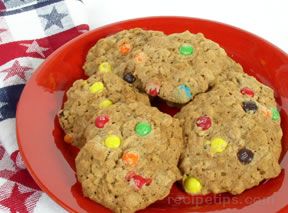 Directions
Spray cookie sheet with non stick cooking spray. Preheat oven to 350° F.
Cream together sugar, vanilla and oil. Add eggs and continue beating until combined.
In a separate small bowl, sift flour, salt, soda, and baking powder. Add this mixture to the egg mixture. Stir in by hand the oatmeal and M & M's until combined.
Drop by heaping teaspoon full onto prepared baking sheet.
Bake for 12 to 15 minutes.
Remove cookies from oven and allow cookies to cool for 2 minutes before moving to a wire rack. Allow cookies to completely cool on wire rack.
Prep Time: 15 minutes
Cook Time: 45 minutes
Container: Cookie sheet, lightly sprayed with non stick cooking spray.


Ingredients
-
2 cups white sugar
-
1 cup brown sugar, packed
-
1 cup shortening
-
3 eggs
-
2 cups all purpose flour
-
2 teaspoons baking soda
-
1 teaspoon baking powder
-
1/2 teaspoon salt
-
1 teaspoon vanilla
-
2 cups quick cooking oatmeal
-
1 cup M & M's