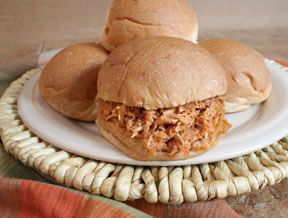 Directions
Spray lining of slow cooker with non stick cooking spray. Layer 2/3 of onion slices and all garlic slices in bottom. Layer the split chicken breasts and top with additional onion slices (separate them, if preferred).
In a small bowl, combine the remaining ingredients and pour over chicken. Lift the breasts to allow some of the sauce to escape to the bottom of the slow cooker. Cover and cook on low for 6 to 7 hours.
Shred chicken. Return chicken to slow cooker to reheat.
Serve on bun.

*Add more ketchup, if you prefer a thicker sauce.
Prep Time: 15 minutes
Cook Time: 6 or more hours
Container: 4 quart slow cooker
Servings: 12


Ingredients
-
4 pounds split chicken breasts, boneless
-
1 sweet large onion, sliced
-
3 cloves garlic, sliced
-
1 1/2 cups ketchup* (or 1 10¾ can condensed tomato soup)
-
1/4 cup brown sugar, packed
-
1 tablespoon Worcestershire sauce
-
1/4 cup cider vinegar
-
1 teaspoon ground red pepper flakes, optional
-
1/4 cup water (optional--use water, if sauce appears too thick. Add toward the end of cooking.)