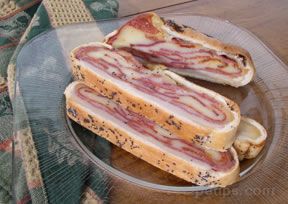 Directions
Preheat oven to 400° F.
Sprinkle yeast into 1 cup of water. Let stand for approximately 5 minutes and then stir to dissolve.
In a large mixing bowl, combine the flour and salt. Make a well in the center and pour in the dissolved yeast and oil. Mix the flour towards the center from the outside edges of the well. Stir in extra water as needed to form a soft and sticky dough. Place dough onto a lightly floured surface. Knead for approximately 15 minutes or until the dough is smooth.
Lightly oil the inside of a large bowl, place the dough inside and cover with a clean towel. Allow the dough to rise to double in size, approximately 2 hours.
Punch down the dough and let rest for 10 minutes. Roll the dough into a 14 x 8 inch rectangle. Cover again with a dish towl and allow it to rest for approximately 10 minutes.
Spread the cheese, garlic, basil and pastrami evenly over the dough. Starting at one of the short sides of the dough, roll it inward, like a jelly roll. Don't roll the dough too tight, allow a little room in the rolls. Place the roll onto an oiled baking sheet. Pierce several holes through the top of the dough down to the baking sheet. You can use a skewer or the pointed end of an oven thermometer. Drizzle 1-2 tablespoons of olive oil onto roll and add salt, pepper, and poppy seeds, if desired.
Bake for one hour or until golden brown. Allow to cool slightly before cutting.

Can be served warm or cold.
Prep Time: 2 hours
Cook Time: 1 hour


Ingredients
-
2 teaspoons dry active yeast
-
1 1/4 cups water
-
3 1/2 cups all purpose flour
-
2 teaspoons salt, divided
-
3 tablespoons olive oil
-
10 ounces mozarella cheese, chopped
-
10 ounces smoked mozzarella cheese, chopped
-
1 clove garlic, peeled and chopped
-
1 bunch fresh basil leaves, chopped
-
1/2 pound pastrami deli meat
-
1 teaspoon pepper
-
2 teaspoons poppy seeds