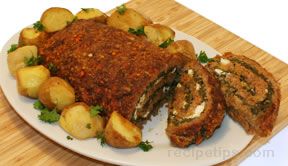 Directions
Preheat oven to 350° F.
Mix all ingredients, except spinach and cheese, in a large bowl.
Stem and cook the spinach (or thaw, if frozen) and squeeze dry, and chop finely.
Cover a rimmed baking sheet with a piece of waxed paper. On the waxed paper, shape the meat mixture into a neat rectangle about 9 inches by 13 inches, keeping the thickness as even as possible. Spread the chopped spinach over the meat. crumble the cheese and distribute over the spinach..
Starting from a short side, use the waxed paper to help roll up the meat, jelly-roll fashion, into a log. With moistened fingers, press and pat the ends shut and seal up any cracks that develop.
Slide the waxed paper away from the meat log and bake in preheated oven about 45 minutes, or to 160° at the center.
Remove from oven and let stand a few minutes to firm up, then cut into thick slices and serve.
TIP: Use the extra space on the baking sheet to roast potatoes or other root vegetables, cut into 1" cubes, along with the meatloaf.
Prep Time: 30 minutes
Cook Time: 45 minutes
Container: rimmed baking sheet
Servings: 8
Serving Size: 6 ounces


Ingredients
-
2 pounds lean ground meat, preferably a mixture of beef, pork and veal or lamb
-
3/4 cup finely crushed cornflakes or breadcrumbs
-
1/2 milk
-
1 egg
-
2 carrots, finely grated
-
1 onion, finely grated
-
1 teaspoon salt, plus freshly ground pepper to taste
-
1 teaspoon crumbled dried herb (oregano, marjoram, etc) or more
-
1 pound fresh spinach, or 10 oz frozen
-
2 ounces feta cheese