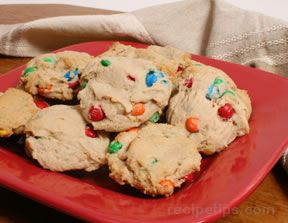 Directions
Heat oven to 375° F.
In large mixing bowl, combine sugars, sour cream, butter, oil, and vanilla until well blended and fluffy. Add flour, baking soda, and salt. Mix until soft dough forms. Stir in chocolate pieces.
Drop dough onto prepared cookie sheets approximately 2 inches apart. The drops should be approximately 1 to 1 1/2 teaspoons in size.
Bake for 9 minutes or until the cookies are slightly brown.

This recipe doubles easily.
Prep Time: 20 minutes
Cook Time: 10 minutes
Container: Cookie sheet or baking stone


Ingredients
-
1/2 cup granulated sugar
-
1/2 cup packed brown sugar
-
1/2 cup sour cream
-
1/4 cup butter or margarine, softened
-
1/4 cup canola oil
-
1 1/2 teaspoons vanilla
-
1 3/4 cups all purpose flour
-
1/2 teaspoon baking soda
-
1/2 teaspoon salt
-
8 ounces small candy coated pieces