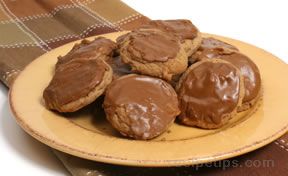 Directions
COOKIE DOUGH:
Preheat oven to 375° F.
In a large mixing bowl, combine sugars, butter, milk, eggs, root beer extract, and vanilla; mix until well blended.
Add flour, baking soda, and salt. Beat until a soft dough forms.
Drop dough in 1 to 1 1/2 teaspoon-size balls onto prepared cookie sheet. Place the dough balls approximately 2 inches apart.
Bake for 10 minutes or until the cookies are just turning brown.
Cool completely.

FROSTING:
In a small mixing bowl, combine powdered sugar, half and half, butter, and root beer extract; mix until smooth.
Frost each cookie. Make sure the frosting is set before storing the cookies in an airtight container.
Prep Time: 20 minutes
Cook Time: 10 minutes
Container: Cookie sheet or baking stone


Ingredients
-
COOKIE DOUGH:
-
1 cup granulated sugar
-
1 cup packed brown sugar
-
1 cup butter or margarine, softened
-
1/2 cup milk
-
2 eggs
-
2 teaspoons root beer extract
-
2 teaspoons vanilla
-
4 cups all purpose flour
-
1 teaspoon baking soda
-
1/4 teaspoon salt
-
FROSTING:
-
1 1/2 cups powdered sugar
-
2 tablespoons half and half
-
2 teaspoons butter or margarine, softened
-
1 teaspoon root beer extract