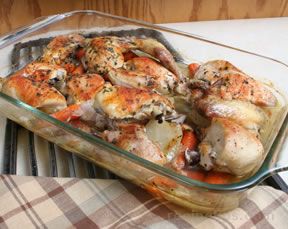 Directions
Preheat oven to 350º F.
Place all vegetables in prepared baking dish and season to taste. Place cut up chicken parts on top of vegetables and pour broth over the top. Sprinkle chicken with paprika.
Cover tightly with aluminum foil and bake 1½ hours. Remove foil during the last 3 minutes of baking.
Serve hot.

Any of your favorite vegetables in any amount will work with this recipe.
Prep Time: 15 minutes
Cook Time: 1.5 hours
Container: 9 x 13-inch baking dish, coat with non stick cooking spray
Servings: 6


Ingredients
-
1 (3 to 4 pound) chicken, cut up and skin removed, if desired
-
3 potatoes, peeled and cut into large pieces
-
1 onion, coarsely chopped
-
2 stalks of celery, chopped into 1" chunks
-
2 cups baby or regular carrots
-
1 cup chicken broth
-
salt and pepper to taste
-
paprika