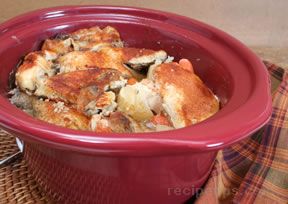 Directions
Coat slow cooker insert with non stick cooking spray.
Place vegetables in the bottom of the slow cooker. Add just enough broth to cover vegetables. Season vegetables to taste and sprinkle on minced garlic. Place raw chicken on top of vegetables, season to taste, and sprinkle with paprika.
Cover and cook on low for 7 hours. It is best not to remove the cover during the first 2 hours to prevent heat loss.
Prep Time: 15 minutes
Cook Time: 6 or more hours
Container: 4 quart slow cooker
Servings: 4


Ingredients
-
1 (3 to 4 pound) chicken, cut up and skin removed
-
1/2 large onion, coarsley chopped
-
4 pounds baby carrots
-
3 potatoes, peeled and cut into chunks
-
2 stalks of celery, coarsely chopped
-
2 1/2 cups chicken broth
-
1/2 teaspoon black pepper
-
1 teaspoon dried minced garlic
-
1 teaspoon salt
-
paprika