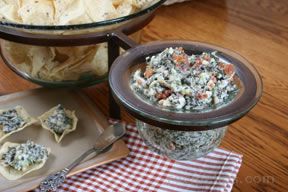 Directions
Thaw frozen spinach and let drain.
In a bowl combine the spinach, water chestnuts, celery, mayonnaise, soup mix, green onions, salt, and pepper. Mix in bacon. If desired, reserve1/2 tablespoon of the bacon and use to garnish top of dip prior to serving.
Place in a covered container and refrigerate for at least 2-4 hours before serving. This dip can be prepared a day ahead of serving.
Prep Time: 30 minutes
Container: Serving bowl - medium sized
Servings: 42
Serving Size: 1 tablespoon


Ingredients
-
10 ounces frozen chopped spinach, thaw and drained
-
8 ounces sour cream
-
1 1/2 cups mayonnaise
-
package dry vegetable soup mix
-
8 ounces chopped water chestnuts, drained
-
1/2 cup celery
-
green onions, chopped fine
-
2/3 cup bacon pieces, crumbled or dried bits
-
1 teaspoon salt
-
1 teaspoon black pepper, fresh ground