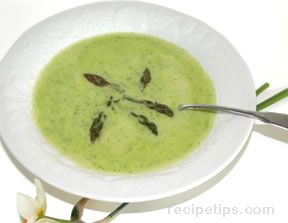 Directions
Wash asparagus and trim off tough ends. Cut into 1 inch pieces. Reserve a few tops for garnish, if you wish.
Cook asparagus in boiling water for 3-4 minutes, until bright green, but still a bit crunchy. Drain.
Heat milk and stock together, with coriander, if using. Add asparagus and purée (use an immersion blender right in the soup pot, or divide into batches and purée in a regular blender).
Taste for seasoning and serve, garnished with asparagus tops, if using.
Prep Time: 10 minutes
Cook Time: 10 minutes
Servings: 4
Serving Size: 1 cup


Ingredients
-
1 pound fresh asparagus
-
2 cups milk or Half-and-Half
-
1 cup chicken or vegetable stock
-
1 teaspoon coriander, ground (optional)