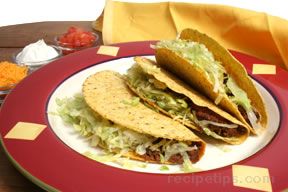 Directions
Brown ground beef and onions together and then drain.
Add taco seasoning, garlic powder, and tomato sauce. Simmer for approximately 10 minutes.
Remove from the heat and place some of the meat mixture in the bottom of each taco shell. Fill the remaining space in the taco shell with shredded lettuce, shredded cheese, diced tomato, and sour cream, or whatever combination is desired.
Serve warm.
Prep Time: 15 minutes
Cook Time: 15 minutes
Container: skillet
Servings: 12


Ingredients
-
1 pound ground beef
-
2 tablespoons taco seasoning
-
1 teaspoon garlic powder
-
1 small white onion, finely diced
-
8 ounces tomato sauce
-
1 package taco shells
-
shredded Mexican cheese
-
shredded lettuce
-
diced tomato
-
sour cream