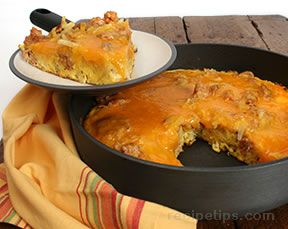 Directions
In a medium sized skillet, brown sausage, onion, and mushrooms until the sausage is cooked through, approximately 7-8 minutes.
Remove sausage mixture from skillet and set aside. Add hash browns to skillet and cook approximately 5-6 minutes; then turn over and cook an additional 7-8 minutes.
Whisk together eggs, salt, and pepper; and then pour meat mixture on top of cooked hash browns before stirring in the egg mixture.
Cook until eggs are almost set. Sprinkle the cheese over the eggs.
Reduce heat to low, cover, and continue cooking 2-3 minutes or until the cheese is melted.
Serve while warm. Garnish with salsa, if desired.
Prep Time: 10 minutes
Cook Time: 20 minutes
Container: 8 inch round heavy skillet
Servings: 6
Serving Size: 1 piece


Ingredients
-
3/4 pound fresh ground Italian sausage
-
2 tablespoons onion, chopped
-
4 ounces sliced mushrooms (drained, if canned)
-
2 cups hashbrown potatoes (refrigerated)
-
8 large eggs
-
1 teaspoon salt
-
1 dash pepper
-
1 cup cheddar cheese, shredded