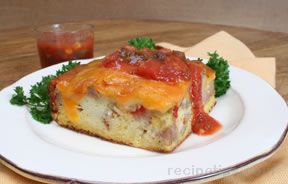 Directions
Remove crusts from 12-14 slices of firm white bread.
Tear each slice into approximately 8 pieces and place in the bottom of a greased baking dish.
Sprinkle with meat, vegetables and cheese.
In a large bowl whisk eggs, milk, mustard, and seasonings together. Pour over the top of the meat and vegetables.
Cover and refrigerate overnight.
The next day, bring the dish to room temperature and preheat the oven to 350°.
Bake uncovered 60-70 minutes or until the center of the egg bake looks set.
Cut into squares and serve warm or room temperature.
Garnish with salsa if desired.
Prep Time: 30 minutes
Cook Time: 1.5 hours
Container: 9 x 13 baking dish
Servings: 12


Ingredients
-
14 slices of white bread - crusts removed
-
1 pound pork sausage - cooked and crumbled or ham cubed
-
3 cups shredded cheese - any variety or combination
-
12 eggs, slightly beated
-
2 cups milk
-
1 tablespoon spicy brown mustard or prepared yellow mustard
-
1/3 cup roasted red peppers, chopped
-
3 tablespoons dried onion
-
1 tablespoon dried minced garlic
-
1/2 teaspoon leaf oregano (optional)
-
1/2 teaspoon freshly ground or coarse ground black pepper
-
1 teaspoon salt
-
salsa for garnish if desired