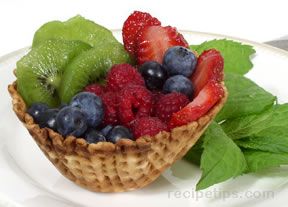 Directions
Wash all fruit. Slice strawberries and kiwi.
In a pre-made waffle bowl (which can be purchased at most grocery stores), arrange kiwi, strawberries, blueberries, and raspberries. Sprinkle with sugar or sugar substitute, if desired.
Garnish with mint sprigs. Top with whipped topping, if desired.


Tip: Any combination of fruit can be used.
Prep Time: 5 minutes
Servings: 4


Ingredients
-
waffle bowls
-
2 cups strawberries, sliced
-
2 cups kiwi, sliced
-
2 cups blueberries
-
2 cups raspberries