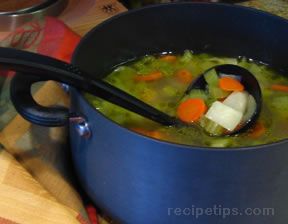 Directions
Over medium heat sauté onion, garlic, celery, carrots, and potato for approximately 7-10 minutes. Season to taste.
Add chicken broth and water to pan. Bring to a full boil, turn heat to a simmer for approximately 30 minutes, or until the vegetables are tender. Season, if necessary.
Serve hot.
Garnish with oyster or soda crackers.
Prep Time: 20 minutes
Cook Time: 30 minutes
Container: Large, heavy saucepan


Ingredients
-
2 tablespoons olive oil
-
6 cups celery - chopped
-
1 large onion - chopped
-
1 clove garlic - chopped fine
-
3 baking potatoes, peeled and cubed
-
2 carrots, peeled and cut into 1/2" chunks
-
4 cups chicken broth
-
2 cups water
-
salt and pepper to taste