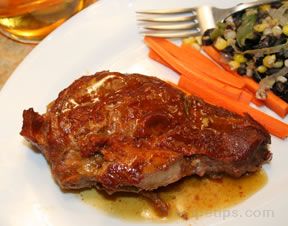 Directions
Remove any large areas of fat from meat and salt and pepper both sides. Chop onions and spread over bottom of cooker. Put meat on onions. Mix the bottled barbeque with the beer; OR mix the ketchup, mustard, molasses (or honey) and chili powder (and/or garlic powder) together and then mix with the beer.
Pour the sauce mixture over meat, cover and cook on HIGH: 4-5 hours, on LOW: 8-10 hours. (Time for your particular cooker may vary somewhat from these times, so check for doneness a little earlier.)
To serve, lift meat and onions out with spatula. Pour liquid into a narrow jar or glass, let stand 1 - 2 minutes, and spoon off the fat that rises to the top.
Pour sauce over meat. If you wish to thicken sauce to make it more gravy-like, mix 1 teaspoon cornstarch into 1 tablespoon water and add to sauce. Boil in a small saucepan for 2-3 minutes, or until clear. Spoon over meat.
Prep Time: 10 minutes
Cook Time: 6 or more hours
Container: 3 quart or larger slow cooker
Servings: 4


Ingredients
-
4 large boneless country-style ribs
-
salt and pepper
-
2 onions
-
1/2 cup barbeque sauce, bottled OR
-
make your own:
-
1/2 cup ketchup
-
1 tablespoon prepared mustard
-
1 teaspoon molasses or honey
-
1 teaspoon chili powder and/or garlic powder
-
1/2 cup beer
-
1 teaspoon cornstarch (optional, for thickening sauce)