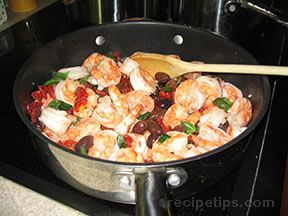 Directions
Warm goat cheese to room temperature so it will easily melt when ready to combine with spaghetti.
Begin cooking spaghetti. While spaghetti is cooking, prepare all other ingredients so they can be ready when spaghetti is finished cooking.
Clean fresh shrimp (if they have not been pre-cleaned), removing shells, tails, and deveining. Sauté garlic cloves in olive oil for 1 to 2 minutes. Add shrimp to the garlic and cook until the shrimp has a rosy pink coloring on each side.
Add olives, sun dried tomatoes and basil to the garlic and shrimp mixture, allowing the added ingredients to warm slightly.
When the spaghetti is finished cooking, remove from heat and let drain in a colander or strainer briefly.
While still very hot, place spaghetti on a serving plate or bowl and add cheese immediately into the hot spaghetti so the cheese can be melted amongst the noodles and dispersed throughout to serve as a sauce. Remove shrimp and other ingredients from heat, serving over the pasta.
Prep Time: 15 minutes
Cook Time: 20 minutes
Servings: 4


Ingredients
-
1 pound spaghetti or similar pasta
-
1 pound raw medium or jumbo shrimp - cleaned
-
6 ounces goat cheese at room temperature
-
2 cloves garlic - sliced thin
-
1/2 cup kalamata olives - pitted, halved and chopped
-
2 ounces sun dried tomatoes - chopped coarsely
-
3 tablespoons fresh basil - coarsely chopped