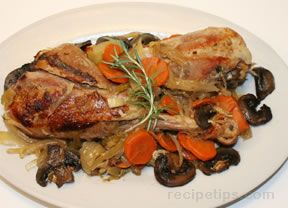 Directions
Slice carrots, mushrooms and celery about 3/8 inch thick. Chop onion. Mince garlic. Remove skin from turkey legs: starting at the top (big) end, pull down and cut at base of leg bone.
In a heavy skillet, heat oil or butter. Salt and pepper legs and brown over medium heat in hot fat.
Remove browned meat to slow cooker; add vegetables and rosemary to skillet and cook, stirring occasionally, for several minutes. Add wine and stir to get up any browned bits in the pan. Pour over meat, cover and cook : on High-about 3 hours; on Low- 6 to 8 hours.
Good served with mashed potatoes, rice, noodles, etc.
TIP: Since the slow cooker isn't nearly filled by this quantity, consider doubling the recipe and freezing the extra for a second meal.
Prep Time: 15 minutes
Cook Time: 3 hours
Container: 4 qt oval slow cooker, 10 or 12 inch skillet
Servings: 2


Ingredients
-
2 turkey legs
-
salt and pepper to taste
-
2 tablespoons olive oil, butter or a combination
-
1 onion
-
2 carrots
-
2 stalks celery
-
2 cloves garlic, or more
-
1 cup fresh mushrooms, sliced (or 4 oz. canned)
-
1 teaspoon chopped fresh rosemary (or use another herb if preferred)
-
1/2 cup dry wine