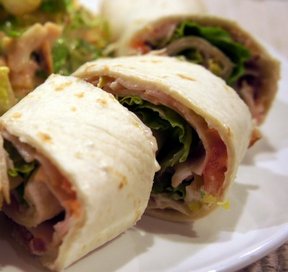 Directions
Warm tortillas as directed on package.

Meanwhile, in a small bowl, combine mayonnaise and cream cheese; mix until smooth. Stir in pepperoncini, cilantro, and bacon.

Spread about 2 tablespoons of mayonnaise mixture on warm tortilla. Top each tortilla with tomato, turkey and lettuce. Roll up each tortilla tightly. Cut each roll into 8 pieces. Secure each piece with a cocktail toothpick.

Serve immediately or cover tightly and refrigerate until serving time.
Prep Time: 15 minutes
Cook Time: 0 minutes
Servings: 6


Ingredients
-
6 flour tortillas (7-inch)
-
1/2 cup mayonnaise
-
4 ounces cream cheese, softened
-
1/2 cup pepperoncini, drained, chopped
-
2 tablespoons fresh cilantro, chopped
-
4 slices bacon, crisply cooked, crumbled
-
1/2 cup tomato, chopped
-
1/2 pound cooked turkey, thinly sliced
-
6 lettuce leaves