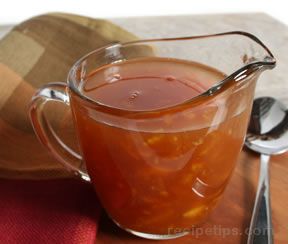 Directions
Combine all ingredients in a small sauce pan. Cook on low heat for approximately 10 minutes, stirring frequently.
Spread glaze on ham during the last 30 minutes of baking. Tent ham with foil to finish baking. Apply glaze again, if desired, during the last 15 minutes of baking.
Serve extra glaze as an additional topping for the ham.
Prep Time: 5 minutes
Cook Time: 10 minutes
Servings: 4


Ingredients
-
1 1/2 tablespoons brandy
-
2/3 cup orange marmalade
-
2/3 cup orange juice
-
3 tablespoons brown sugar
-
2/3 cup raisins