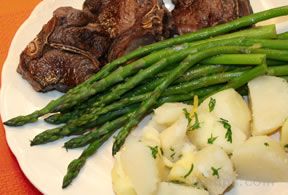 Directions
Trim asparagus by snapping off the tough ends of the spears. (See TIP).
In a container large enough to lay the spears flat, bring to boil enough water to cover the asparagus generously.
While waiting for the water to boil, make the vinaigrette: whisk together lemon juice and oil. Add salt and pepper to taste. Set aside. Remove zest from lemon, if using.
Add asparagus to boiling water, return to a boil, and begin testing for doneness (when a sharp knife easily pierces a spear) after 2 minutes. Thick spears may take several minutes more. Don't over cook!
To serve warm, drain well and pour vinaigrette over. Add zest, if using. To serve cold, drain, rinse in cold water, and refrigerate until needed. Add vinaigrette just before serving.
TIP: The tough ends removed in preparing the spears can be peeled and reserved for another preparation.
Prep Time: 10 minutes
Cook Time: 5 minutes
Servings: 4
Serving Size: pound


Ingredients
-
1 pound fresh asparagus
-
2 tablespoons fresh lemon juice
-
3 tablespoons olive or canola oil
-
salt and pepper
-
1 teaspoon lemon zest (optional)