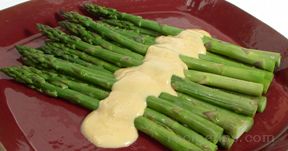 Directions
Wash and snap the ends off the asparagus. Steam asparagus for approximately 4-5 minutes, or just until tender crisp.* Keep warm.
Meanwhile, in a blender, combine egg yolks, seasonings, and lemon juice. While machine is on, drizzle in melted butter. Mixture will thicken. Add additional seasonings to reach desired taste.
Pour on asapargus and serve immediately.

*Asparagus can also be boiled or roasted.
Prep Time: 10 minutes
Cook Time: 5 minutes
Servings: 4


Ingredients
-
1 bunch fresh asparagus
-
8 tablespoons butter, melted
-
3 egg yolks
-
1/4 teaspoon salt
-
1 1/2 tablespoons freshly squeezed lemon juice