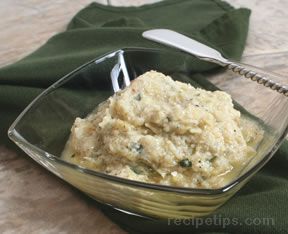 Directions
Drain oil from artichokes. Chop the artichokes, cheese, and nuts into small pieces, or pulse ingredients in a food processor to grind into bits.
Add oil and lemon juice to the chopped ingredients blending together thoroughly. Mince garlic and herbs and add to mixture.
Salt and pepper to taste.
Refrigerate and use within several days or freeze for longer storage.
Prep Time: 30 minutes


Ingredients
-
6 ounces artichoke hearts marinated in oil, quartered
-
5 tablespoons olive oil, extra virgin
-
5 tablespoons Parmesan cheese
-
1/3 cup fresh basil or parsley
-
4 tablespoons lemon juice
-
1 cup walnuts
-
2 garlic cloves, quartered
-
salt and pepper to taste