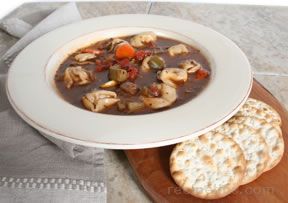 Directions
In a heavy skillet, brown onion and garlic until soft and lightly golden brown.
In soup pot, add beef broth, browned onion and garlic, tomatoes, tomato sauce, zucchini, carrot, green pepper and wine. Cover and simmer 40 minutes. Turn heat to medium, add seasonings, and tortellini.
Cook 10 to 15 minutes. Season to taste. Serve hot.
Garnish with cheese, if desired.
Prep Time: 15 minutes
Cook Time: 45 minutes
Servings: 6


Ingredients
-
1 sweet onion, chopped
-
2 cloves garlic, chopped
-
6 cups beef broth
-
14 ounces can diced tomatoes
-
1 cup tomato sauce
-
1 small yellow zucchini, sliced
-
1 small green zucchini, sliced
-
1 sweet green pepper, chopped
-
1/3 cup red wine
-
1 teaspoon ground oregano
-
1 tablespoon crushed sweet basil
-
16 ounces frozen cheese tortellini
-
salt and pepper to taste
-
garnish: freshly grated parmesan cheese