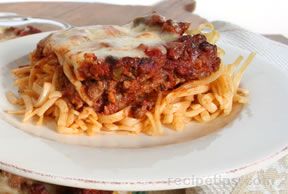 Directions
In a heavy skillet over medium heat, brown sausage, ground beef, green pepper, onions, and garlic until meat is no longer pink and vegetables are softened, approximately 15 minutes. Drain off excess grease. Add the drained canned mushrooms and heat thoroughly. Pour spaghetti sauce over meat and vegetable mixture in skillet and simmer uncovered for 20 minutes.
Preheat oven to 350° F.
Spray 3 quart baking dish with non-stick cooking spray.
While sauce simmers, prepare pasta according to package directions. Drain pasta and pour into baking dish. Top with meat sauce and combine lightly. Sprinkle mozzarella cheese over top and bake 20 minutes, or until cheese is bubbly and light golden in color.
Serve hot. Garnish with parmesan cheese, if desired.
Prep Time: 30 minutes
Cook Time: 20 minutes
Container: heavy skillet, 3 quart baking dish
Servings: 6


Ingredients
-
8 ounces pasta, linguine or similar
-
1/2 pound fresh Italian sausage
-
1 pound lean ground beef
-
1 cup sweet green pepper, chopped
-
1 medium sweet onion, chopped fine
-
1 clove garlic, chopped
-
4 ounces can sliced mushrooms, drained
-
salt and pepper to taste
-
28 ounces prepared spaghetti sauce with mushrooms
-
12 ounces shredded mozzarella cheese
-
garnish: fresh grated parmesan cheese