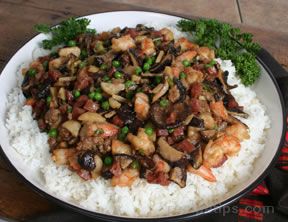 Directions
Rinse rice in cold water using a colander.
In a large sauce pan, bring 4½ cups of water to a boil. Add salt as the water begins to boil, then add rice, and turn heat to simmer. Cook, in a covered sauce pan, for 20 to 25 minutes, or until water is absorbed.
Remove rice from heat, allow rice to rest (covered) for 10 minutes.
While rice is cooking, chop dried mushrooms, and rehydrate according to package directions. Drain water from mushrooms (reserving mushroom water for later use). In a bowl, combine 1 tablespoon oyster sauce, the soy sauce, red wine, salt, honey, and corn starch and marinate mushrooms in this mixture for 15 to 20 minutes.
In a heavy skillet sauté turkey sausage, Chinese sausage, and green onions over medium heat for approximately 10 minutes or until sausage appears thoroughly cooked. Add marinated mushrooms to skillet and continue sautéeing for 10 minutes, stirring frequently. Add reserved water from mushrooms as needed to prevent ingredients from sticking to the bottom of the skillet. Transfer ingredients to a large serving bowl.
Add sesame oil to skillet and sauté shrimp for 2 minutes. Stir in meat and mushroom mixture and add water chestnuts and 2 tablespoons of oyster sauce. Continue cooking for 2 minutes, stirring to combine. Turn off heat and stir in peas.
Serve over rice or mix all together, if desired.
Prep Time: 30 minutes
Cook Time: 1.5 hours
Container: large heavy sauce pan, large skillet, large serving container
Servings: 8


Ingredients
-
3 cups raw jasmine rice
-
4 1/2 cups water
-
3 teaspoons salt
-
2 ounces dried shiitake mushrooms
-
3 tablespoons oyster sauce, divided
-
2 tablespoons soy sauce
-
2 tablespoons corn starch
-
1 teaspoon salt
-
1 tablespoon honey
-
2 tablespoons red wine
-
3 to 4 links Chinese style sausage, diced
-
4 to 6 links turkey sausage, chopped
-
1 bunch green onions, sliced
-
1 pound shrimp (frozen, remove tails and cut into thirds)
-
2 tablespoons sesame oil
-
1 cup water chestnuts, coarsely chopped
-
1 cup frozen baby green peas