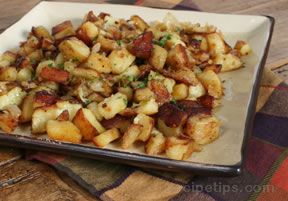 Directions
Use left over boiled Yukon Gold or red skinned potatoes* cut into 1 inch square pieces. In a heavy skillet, melt 1 tablespoon or butter and sauté onions for approximately 5 minutes, or until the onions are lightly browned. Add 2 tablespoons of butter and diced potatoes, and stir to mix onions and potatoes.
Cook over medium heat until golden brown, approximately 6 to 7 minutes. Flip and cook an additional 6 to 7 minutes until golden brown.
Salt and pepper to taste.

*To Boil Potatoes: Scrub potatoes, cutting out any darkened spots. Cut potatoes into quarters. Place potatoes in a large sauce pan filled with enough cold water to completely cover potatoes. Add 1 teaspoon salt, bring to a boil and cook 20 minutes or until tender. Drain.
Prep Time: 15 minutes
Cook Time: 15 minutes
Container: Medium heavy skillet
Servings: 4


Ingredients
-
1 1/2 pounds Yukon Gold or red skinned potatoes
-
3 tablespoons butter or margarine, divided
-
1 dry yellow onion, chopped fine
-
Kosher salt and freshly ground pepper to taste