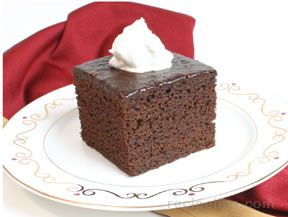 Directions
Preheat oven to 350° F.
Grease and flour 9-inch square pan.
In a large mixing bowl, cream shortening and sugar together. Add egg and stir in molasses and water.
Stir dry ingredients together, add to liquid mixture, and combine until smooth. Pour into prepared pan, bake 45 minutes, or until knife inserted in center comes out clean.
Serve warm or cold. Garnish with whipped topping, if desired.
Prep Time: 15 minutes
Cook Time: 45 minutes
Container: 9-inch square pan
Servings: 8


Ingredients
-
1/2 cup shortening or butter
-
1/4 cup sugar
-
1 egg
-
1 cup molasses
-
1 cup very hot water
-
2 1/3 cups all purpose flour
-
1 1/2 teaspoons baking soda
-
1/2 teaspoon salt
-
1 1/2 teaspoons ground ginger
-
1 1/2 teaspoons ground cinnamon
-
2 teaspoons orange zest (optional)
-
garnish with whipped topping, if desired