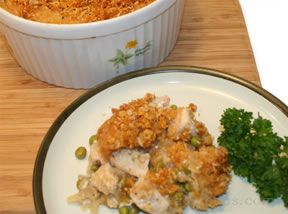 Directions
Pre-heat oven to 375° F.
Lightly oil or butter a 1 1/2 quart baking dish (A taller deep dish works better than a flat shallow one).
Cut chicken into cubes of about 1". Dice the onion.
In a 10 - 12" skillet, heat oil until hot. If using raw chicken, lightly salt and pepper the cubes and cook, stirring occasionally, until they begin to brown, about 5 minutes. Spoon the browned cubes into prepared dish, leaving as much oil in the pan as possible. Add chopped onion, cook about 5 minutes, stirring occasionally. (If using cooked chicken, put cubes directly into baking dish, lightly salting if necessary, and begin browning with the onions.)
Add vegetables and cook another minute or two, then stir in yogurt and marjoram. Mix well, taste for seasoning, and pour over chicken, stirring to mix well.
In food processor, pulse oats, corn flakes and sliced butter until corn flakes are mostly reduced to crumbs and butter is mixed in (small bits of butter are ok). Spread this crumb mix over the chicken and bake 30 minutes.
Serve hot.
Prep Time: 15 minutes
Cook Time: 30 minutes
Container: 1 1/2 quart oven-proof baking dish
Servings: 4
Serving Size: 2 cups


Ingredients
-
2 tablespoons vegetable oil
-
2 cups cubed chicken breast, raw or cooked (about 1 lb.)
-
1 onion
-
1 cup frozen vegetables (peas, broccoli, mixed vegetables)
-
2 cups plain yogurt
-
1 teaspoon dried marjoram, finely crumbled (substitute oregano, tarragon, etc)
-
salt and pepper
-
1/2 cup rolled oats
-
1 cup corn flakes
-
1/4 cup butter