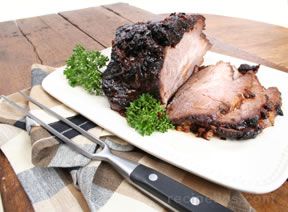 Directions
Preheat oven to 350° F.
Spray roasting pan with non-stick cooking spray and place brisket in the pan. Cut numerous slits into brisket and insert sliced garlic. Cover top of brisket with sliced onions and chili sauce.
In a small bowl, mix together dried onion soup and beer. Carefully pour over chili sauce. Add water to roasting pan.
Bake 3 1/2 hours, uncovered. Check brisket at approximately 2 1/2 hours. If brisket appears to be darkening too much, cover with foil for the last hour of baking.
Slice and serve. Brisket can also be sliced and frozen for later use.
Prep Time: 15 minutes
Cook Time: 4 hours
Container: roasting pan
Servings: 8


Ingredients
-
5 pounds beef brisket (5 to 6 pounds)
-
2 cloves garlic (large), peeled and sliced
-
2 sweet large onions, sliced
-
12 ounces chili sauce
-
1 package dry onion soup mix
-
12 ounces stout beer
-
1/2 cup water