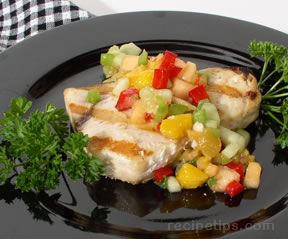 Directions
Swordfish - 15 minute preparation
Cut whole steak into 4 pieces, approximately 1/2 pound each, or buy individual steaks.
If grilling in a pan, preheat pan for 2 minutes. If grilling on open grate, preheat the grill on medium heat for 3 or 4 minutes. Brush/coat pan or grill surface with cooking oil or cooking spray.
Place swordfish steaks on cooking surface and grill for approximately 4 to 7 minutes on each side or until steaks are firm to the touch, but still moist, tender, and slightly opaque on the inside at the thickest point.
Since temperatures vary for ovens and open grills, check the fish for doneness being careful not to overcook swordfish in order to achieve the best flavor.
Melon Salsa - 30 minute preparation--prepare ahead of time.
Slice the cantaloupe, honeydew and mango, removing the fruit so it can be diced into 1/4 inch cubes. Chop the green pepper, red pepper, and red onion into fine pieces. If chilies are not diced or seeded, remove the seeds and cut into fine pieces. Chop fresh cilantro and garlic into small pieces, or if desired, mince the garlic instead. Place those ingredients in a small mixing bowl and toss well.
In a separate bowl, squeeze 3 tablespoons from one lime and mix with vinegar, oil, and ground cumin. Pour contents into the fruit mixture, mixing all together.
Cover and refrigerate for several hours to allow flavors to combine.
Serve salsa on top of the grilled swordfish.
Prep Time: 45 minutes
Cook Time: 10 minutes
Servings: 4
Serving Size: 1 slice


Ingredients
-
2 pounds fresh, boneless swordfish steak about 1 inch thick - cut into 4 pieces
-
1 1/2 cups cantaloupe, peeled and diced
-
1 1/2 cups honeydew, peeled and diced
-
1 1/2 cups mango, peeled and diced
-
1/2 cup green bell pepper, chopped fine
-
1/2 cup red bell pepper, chopped fine
-
1/3 cup red onion, chopped fine
-
4 ounces green chilies, diced or 2 jalapeno peppers, seeded and chopped fine
-
2 tablespoons fresh cilantro, chopped
-
1 clove garlic, minced or chopped fine
-
3 tablespoons fresh lime juice - squeezed from lime
-
1 tablespoon white wine vinegar
-
1 teaspoon canola oil
-
1/2 teaspoon ground cumin
-
salt and pepper to taste